Absolute Hospice Now Serving Caldwell and Surrounding Areas
Absolute Home Health & Hospice has announced the expansion of hospice services to Noble and Guernsey counties. Absolute (formerly known as Summit Acres Home Care) has been providing home health services to the surrounding communities for 25 years and is looking forward to providing hospice services to the community. Office space will be shared with the agency's home health team located at 39 Summit Court, Caldwell, OH.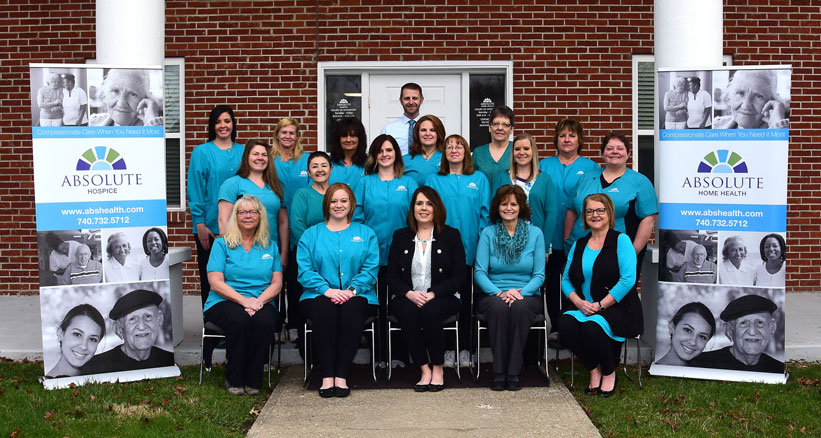 "We have wanted to bring hospice to our community for years. This expansion can be attributed to the passion and dedication that the Schroer family has for end-of-life care. Our own community, family members and loved ones deserve the exceptional care that we are known for and proud of," said Chris Singer, director of operations. Singer joined the company in 1996 as director of home care. Since the 2012 acquisition, her role and responsibilities have expanded to oversee operations for all four office locations.
Our compassionate hospice team consists of local RNs, LPNs, aides, chaplain, social worker, bereavement coordinator, volunteer coordinator, and volunteers. The agency will provide hospice care to people suffering from life-limiting illnesses in local nursing homes, assisted living facilities, as well as to patients living in their own homes.
Patients of Absolute Hospice will also have the support of the Absolute Hospice Foundation, a non-profit organization that provides final wishes and funeral grants, hospice care education, volunteer resources, and information about community-based support.
About Absolute Home Health & Hospice:
Since 1994, Absolute Home Health & Hospice has been meeting the needs of patients in the home. We provide home care, palliative care, and hospice services. Absolute Hospice is located in Caldwell, Pickerington, North Canton, and Independence.
Our parent company, The Schroer Group, is an Ohio-based, family-owned and operated organization. The Schroer Group family of companies consists of Altercare Integrated Services, Absolute Health Services, Avalon Food Service, Leverage Purchasing Group, and Valor Health Plan.
For more information, please visit www.abshealth.com, or contact us at 740.732.5712.